Setting Pay Rates For Your Staff & Complying With The National Minimum Wage Webinar
February 28 @ 10:00 am

-

11:30 am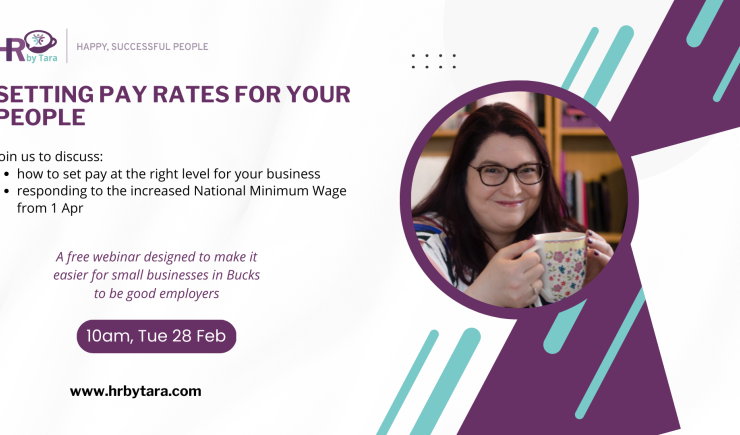 How do you decide what to pay your staff? Are you consistent about why you pay people what you pay them? Are you concerned about the 9.7% increase in the National Living Wage that comes in from 1 April?
This webinar, designed for owners of small businesses in Bucks, will help with all these topics.
Every year, on 1 April, statutory rates of pay are increased. This includes rates for SSP, SMP, etc. plus also the minimum hourly rates that we can pay staff, based on their age.This can cause challenges for small businesses who may pay some or all of their staff at or around the minimums. You may need to increase hourly rates significantly for some people, but what about those who are currently paid more than the new minimum, are they going to want an increase too?
There is an art to setting the right pay rates for staff – so you can attract the right people to work for you, so that you don't lose them to competitors paying 5 pence an hour more, and so that your business can be profitable.
In this webinar we'll talk about the new minimum rates of pay from 1 April 2023. We'll also talk about the other factors that affect what staff want to be paid – cost of living increases, stories about average wage growth, what other companies are advertising, and what people think they are worth to your business. We'll discuss how to set pay rates fairly and consistently and how to communicate your decisions to your staff.
Please do follow HR by Tara on LinkedIn and Facebook to hear more about how to be a good employer.
https://www.facebook.com/HRbyTara/
https://www.linkedin.com/company/hrbytara
---
Details
Date:
28 February, 2023 – 28 February, 2023