Business leaders celebrate the launch of Bucks Hubs
Entrepreneurs with big ideas in health, technology and digital businesses now have the space to succeed following the launch of two purpose-built hubs in Buckinghamshire.
Local business leaders joined key figures from Oxford Innovation, Buckinghamshire New University and Buckinghamshire Local Enterprise Partnership to officially celebrate the launch of the Bucks Health Tech Hub and Bucks Digital Hub on Wednesday, 11 March.
Owned by Buckinghamshire New University and managed by Oxford Innovation, the UK's leading operator of innovation centres, the two Hubs will provide a thriving eco-system for early stage health, technology and digital businesses to grow. These pioneering new facilities were supported by Local Growth Funding from Buckinghamshire Local Enterprise Partnership who invested £2.62m across the two schemes.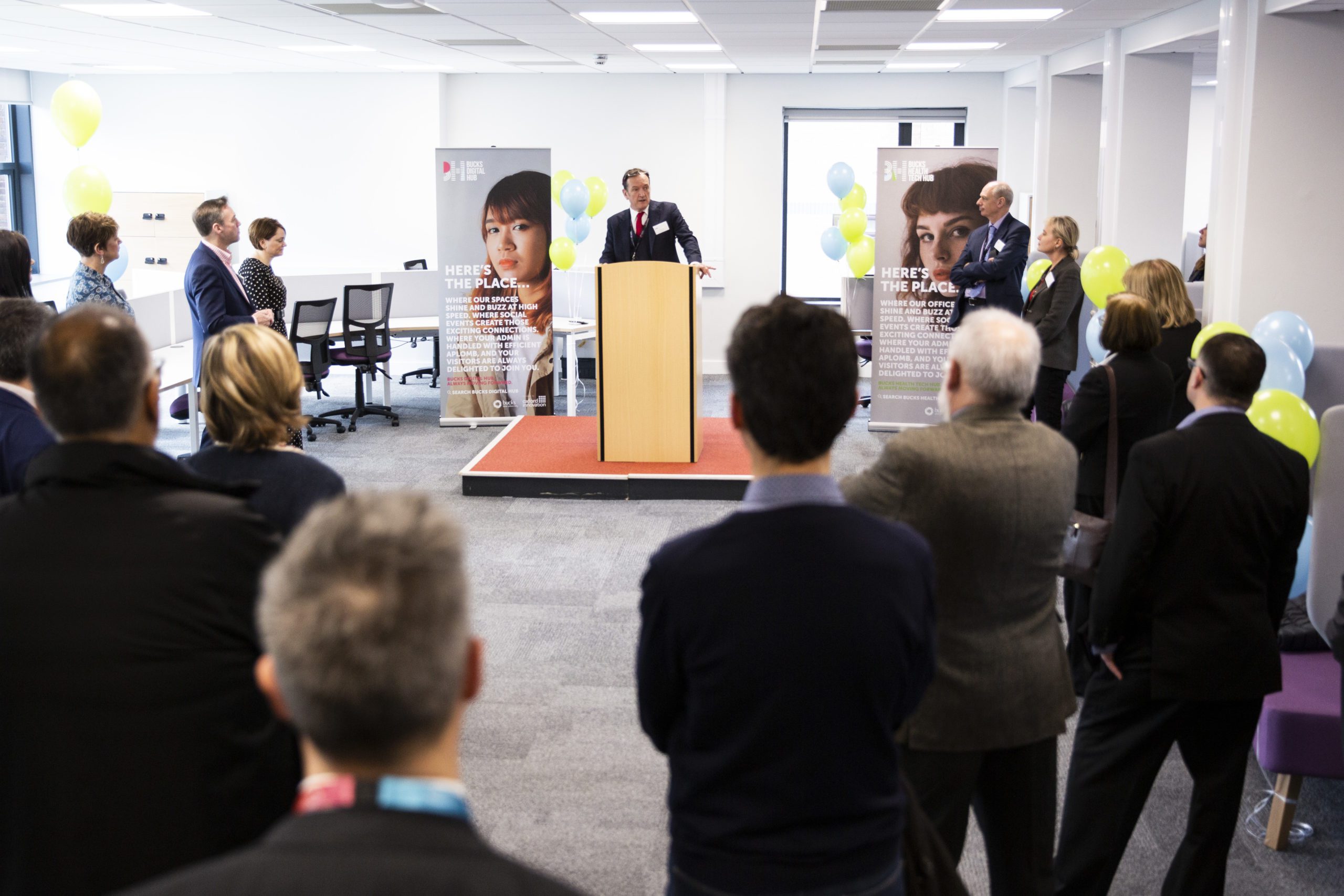 The Bucks Health Tech Hub on Queen Alexandra Road, High Wycombe, boasts an impressive co-working space in the heart of the University's main campus, including four self-contained offices ranging from 168 sq ft to 912 sq ft, as well as a large meeting room, reception services and networking opportunities.
The Bucks Digital Hub, located on the waterside at the University's Aylesbury Campus in Walton Road, offers 65 desks in an open-plan co-working space as well as a networking area, meeting room, kitchenette and lockers.
More than just a space to work, both Hubs provide expert in-house support from Jim Gabriel, an Entrepreneur in Residence, who will be on-hand to support businesses with strategy development, funding, industry connections and sharing his vast experience of working with early stage businesses.
Greta Paa-Kerner, Head of Business Engagement at Buckinghamshire New University, said: "With our on-site teams to help out with the day to day, and access to world-class university facilities, Bucks Hubs offer the ideal environment to help grow businesses.
"The launch of both centres will mark the beginning of a fantastic opportunity for local businesses to be part of a thriving eco-system, focusing on health, technology and digital business. They will be given the opportunity to work alongside academics at the University as well as our health care partners.
"The Digital Hub is here to capture the dynamic nature of business today. We hope the new facilities will help to inspire our students and encourage opportunities such as work placements and internships. We're providing the facilities to incubate new business and help them on their journey to growth."
Bucks Hubs always moving forward
Andrew M. Smith, Chairman of Buckinghamshire Local Enterprise Partnership, said: "We are delighted to be funding this key project to support pioneering innovation in Buckinghamshire. The new Innovation Centres offer a unique opportunity for innovators within small or large businesses to work alongside academics, clinicians, provider organisations etc., to develop and co-create innovations that meet local needs and priorities."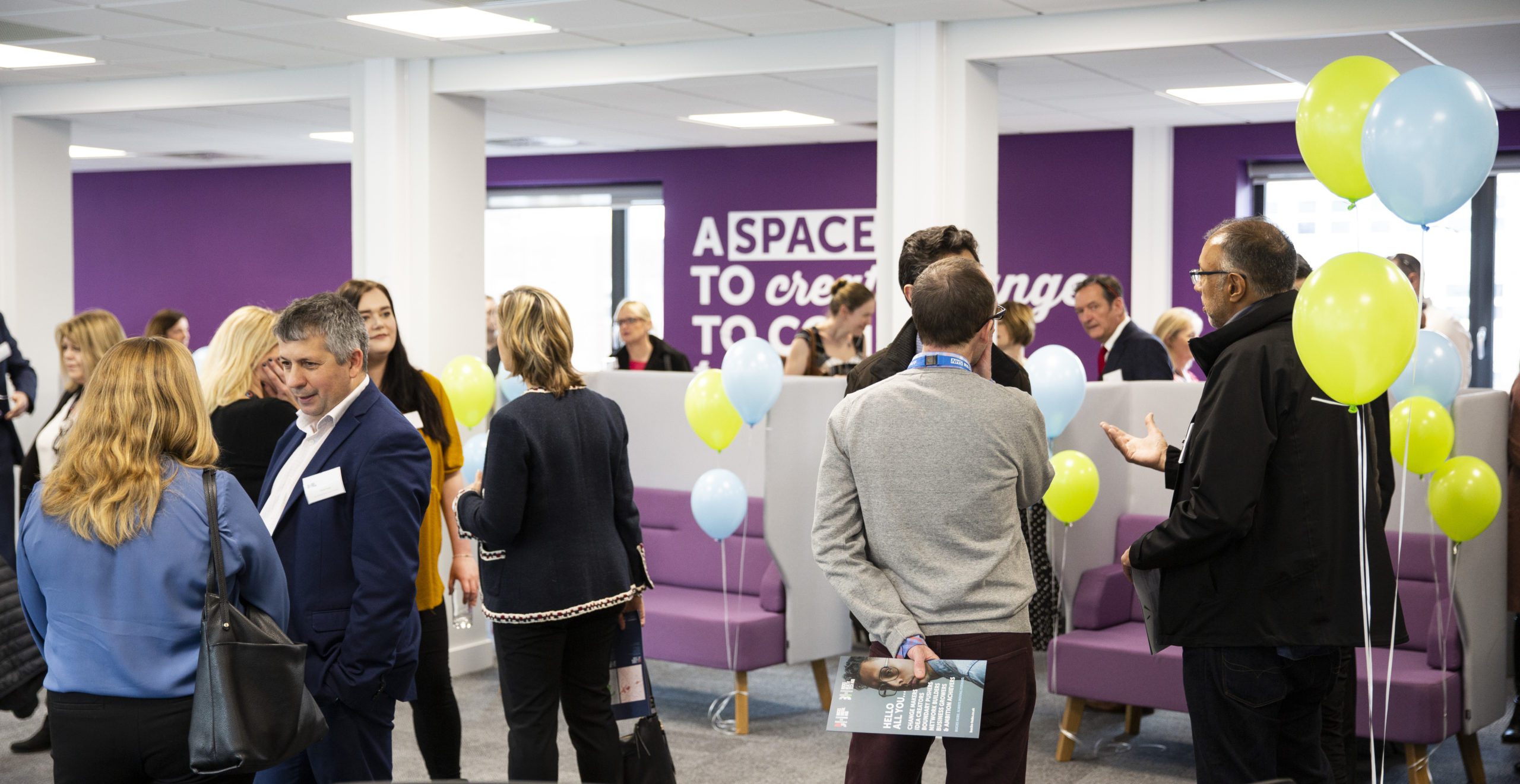 Simon Clarke MP, Minister of State, Ministry of Housing, Communities and Local Government, said: "The Government is committed to leveling up across the whole of the UK and ensuring every community has the support and investment it needs to unlock its full potential.
"We are backing Buckinghamshire's entrepreneurs with over £2.6 million so they can develop their ambitious plans to create new jobs in health, technology and businesses.
"This is the latest example of how £73 million Local Growth Fund investment is supporting local projects across the county and we're also supporting high streets like High Wycombe adapt and evolve while remaining vibrant and safe places at the heart of our communities through our Future High Streets Fund."
Jo Stevens, Managing Director at Oxford Innovation, said: "We are thrilled to officially launch these magnificent facilities for Buckinghamshire, which will bolster the county's credentials and provide the perfect platform from which to grow new ventures and create new jobs.
"At Oxford Innovation we are proud of our track record of incubating, harnessing and nurturing talent and innovation, enabling start-ups and entrepreneurs to push the boundaries in their field and drive economic growth."
Interested in space at the Bucks Health Tech Hub or Bucks Digital Hub? Find out more at www.bucks-hubs.co.uk or contact our centre team, on 01895 910 101.
More
Oxford Innovation Space Referral Scheme
Do you know of someone looking for office space or coworking space? Introduce us to them and if they take an office space in one of our centres then you will receive £200 worth of vouchers of £50 if they sign up for coworking. With over 25 locations your friends […]
Brand new offer for BNU graduates
Are you looking to start up your own business? Do you have that big idea? We're here to support budding entrepreneurs and start-ups to innovate and grow. We offer co-working desks at Bucks Health Tech Hub in High Wycombe and Bucks Digital Hub in Aylesbury, where you can join others […]
Congratulations BNU Graduates!
Thinking of starting a new business, or looking for a place to work that isn't your kitchen table – then don't forget our amazing offer – 25% off your first year of membership at Bucks Hubs.