Head to head with Jim Gabriel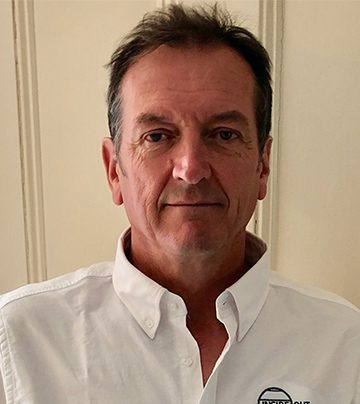 What is your background and what did you do before this role?
I have spent most of my career in high tech, high growth businesses in the Netherlands and the UK, and I have over 20 years' start-up experience. I've worked as founder, CEO, director and business development director across a number of companies since the late 1990s, most of them my own. Most recently in health tech and digital, I co-founded RealTime Health, a business geared to reducing the length of stay for patients in hospitals through a package of clinical process refinements supported by a software system managing patient flow hospital-wide. As CEO, I was responsible for all sales and marketing, growing the business, and taking the company to a successful exit.
I've also worked in construction over the years, on an off. My most recent start-up is an extremely low-tech (and award-winning) hands-on carpentry business, building bespoke garden rooms, all of which are unique and gorgeous to look at, even though I say so myself as I'm responsible for sales and design.
What attracted you to this role?
I really enjoy starting and growing new businesses, and working with other people's start-ups, so being able to contribute to lots of early-stage business ventures all at once really appeals to me. Especially in health tech and digital. I thoroughly enjoy coaching and mentoring – I realise that I have a lot of valuable experience that it's good to share, good to give back.
A lot of the really significant game-changing experiences in my career have involved inspirational people helping me, steering me, opening doors for me. I am now in the amazing position of being able to return the favour, as it were, to a following generation of entrepreneurs.
What are you looking forward to in this new role?
To meeting and working with a lot of interesting, driven, talented people, co-operating on one of the things I love doing the most – taking great ideas and turning them into great businesses.
What are your aims?
We are starting almost from scratch in this exciting new venture so there's a lot to do. Right now, in the beginning, it's all about getting our centres up and running. Longer term it's about the place we want to carve out for ourselves in the world of health tech and digital innovation. I want to help build an eco-system of entrepreneurs and complementary organisations that will make Bucks New University really stand out as a leader in business engagement.
What do you do in your spare time?
I'm a keen cyclist (I'm a Mamil), I love building things (I'm a carpenter), I read voraciously (I'd like to have been a novelist in an alternative universe), I love music (I play piano, albeit a little stiffly after nearly sawing my fingers off a few years ago on a carpentry job), I thoroughly enjoy cooking (but I have a lot of competition from my family), and I am happiest on long rambling walks with friends and family, especially if there's a fine country pub along the way somewhere.
What are your initial impressions so far?
It's very exciting! The centres are like huge blank canvasses ready to go – so much potential and lots of great, motivated people wanting to make a success of this. Oxford Innovation are like old friends to me, so I'm delighted to be joining the team, and I'm privileged to be able to play a part in making a success of this for Bucks New University.
More
Oxford Innovation Space Referral Scheme
Do you know of someone looking for office space or coworking space? Introduce us to them and if they take an office space in one of our centres then you will receive £200 worth of vouchers of £50 if they sign up for coworking. With over 25 locations your friends […]
Brand new offer for BNU graduates
Are you looking to start up your own business? Do you have that big idea? We're here to support budding entrepreneurs and start-ups to innovate and grow. We offer co-working desks at Bucks Health Tech Hub in High Wycombe and Bucks Digital Hub in Aylesbury, where you can join others […]
Congratulations BNU Graduates!
Thinking of starting a new business, or looking for a place to work that isn't your kitchen table – then don't forget our amazing offer – 25% off your first year of membership at Bucks Hubs.